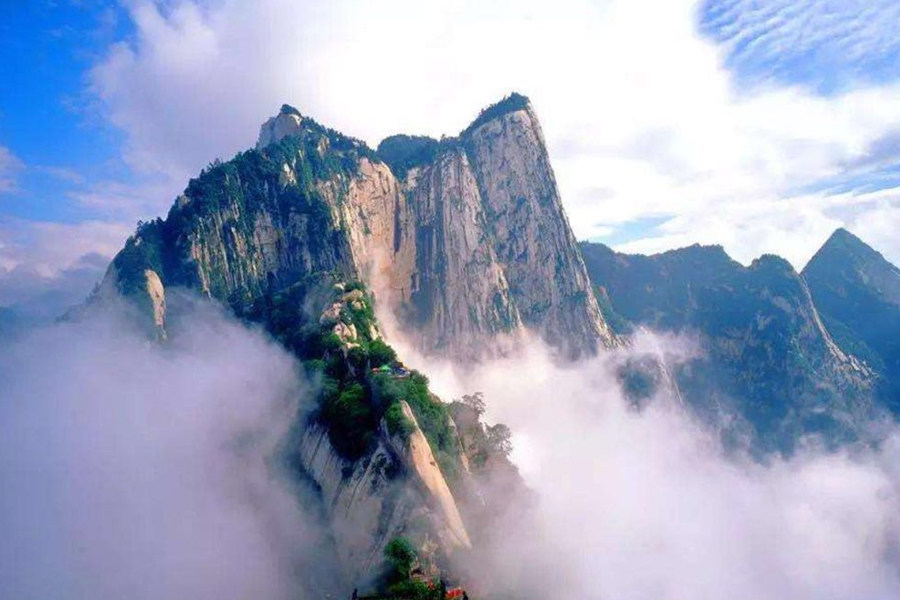 Mountain hua
In the morning
The tour guide and driver will be waiting for you at 8:00 am in your hotel lobby & go to Mountain hua directly. Mountain Hua is located 120 kilometers away from Xian.It takes about 2 hours driving from Xian to get to mountain hua
There are five peaks of mountain hua . These five peaks look like a lotus flower among the mountains from a long distance. Hence the name of mountain hua ( hua means flower in Chinese )
Mountain hua Is always known for its precipitousness . The peaks are peculiar. The cliffs are steep . And the road is difficult and dangerous. But the scenery looks like painting. But we are lucky to visit mountain hua easily today !There are two cable cars to the top of the mountain. The north cable car and the west cable car . Especially the west cable car is the longest cable car in Asia . It takes about 20 minutes to the west peak which is the second highest peak among the five peaks. You could see the south peak which is the highest peak among the five peaks from the west peak and see the five peaks of mountain hua
It is much worthy trip of mountain hua . It is inconvenient to find restaurants over mountain hua . Kathy suggests you to take some snacks on your own . For your pleasure. Kathy will prepare some nice snacks for you on the mountain hua tour .
Price :
1 person - 6 people . Van : 1200 Cny.
Tour guide : 400 rmb per day . Sightseeing tickets and meals are covered on your own .
Please note :
1: The tour is private tours .
2: The tour is very flexible to follow your interests and step . If the itinerary above is not suitable to you . We will tailor- made the trip according to your personal interests and requirements .
3: The price is based on hotel pick up and drop off . If you need additional airport and fast train station transfers. Please let is to know in advance
Be picked up at the airport or train station & dropped off at your hotel . Van and driver : 260 Cny. ( capacity for 1 person to 6 people)
Be picked up at the hotel & dropped off at the airport or fast train station : 260 CNY
If the number of pax exceeds 6 or 7 people. Please contact me to quote you the price.
Note :
Please email me if the tour itinerary above is not to your liking.I can design a custom schedule for you. Rest assured that I will always strive to give you the best price possible.