Guilin's is reputed as one of the world's most beautiful places. Its idyllic scenery draws millions of tourists from near and far every year. Welcome to travel Guilin of China!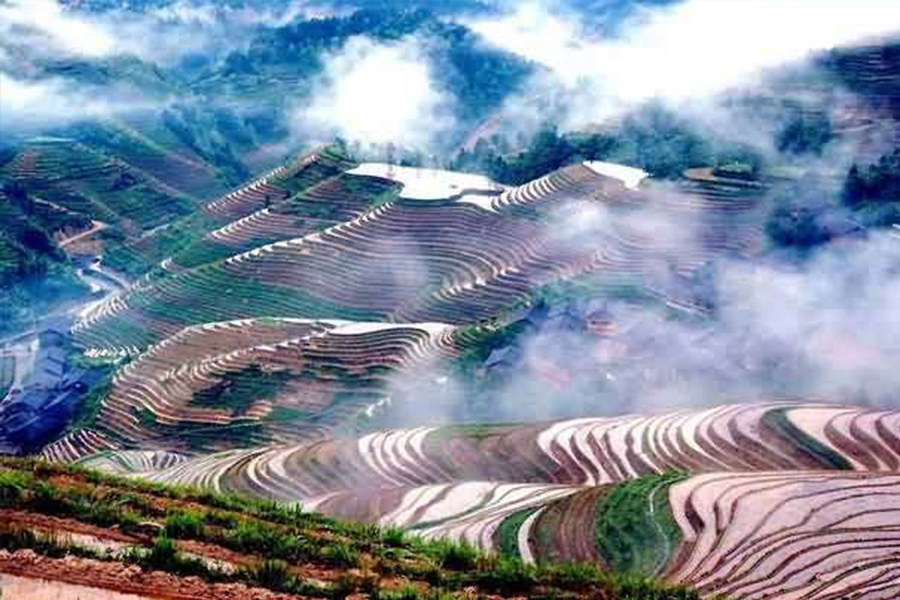 One day Longji rice terraces & Hiking tour Yao and Zhuang Ethnic Customs
Full-day tour Longji Terraced Fields
Hotel pick up: around 8:00am
Tour duration:8:00am- 6:30pm
Ancient farming culture
Itinerary overview
The tour begins at :8:00am, Transfer to Longji rice terraces (about 2.5 hours) you will enjoy about 2 hours short hiking tour in the afternoon En-route you will appreciate the fascinating view,you also can experience the local lifestyle of Yao and Miao ethnic minorities who live there, after your of this breathtaking area, you will be driven back to Guilin (2-hour drive).
The Longji Rice Terraces are located in Heping District, Longsheng County about two hours' drive from Guilin so they are also called Longsheng Rice Terraces.
They are at an altitude of 330–1,110 meters (1,000–3,700 feet). The highest rice terraces located at 880 meters above sea leve while the lowest of it is about 380 meters. Their wonderful scenery attracts numerous photographers every year.
Longji Rice Terraces are home to many ethnic people and there are numerous Zhuang and Yao and Dong villages among the terraces. They built unique wooden houses here and woman there all wear their ethnic clothes. The woman like to wear embroidered headwear and an apron covered with exquisite handwork. Zhuang ladies will also wear intricate handmade silver earrings, bracelets and nceklaces. For their homes, those are old black gray houses on stilts; the ground floor is used for storage of the raising of animals, while upper floor with rooms and a fire pit is the living area.
Those ethnic cultures and customs are also attracting features to visitors. Visitors can experience the Zhuang people's original culture
Note :
Above the listed tour itinerary.Please email us to get your the questions and we could customize the tour itinerary for you and quote the best best that we could .