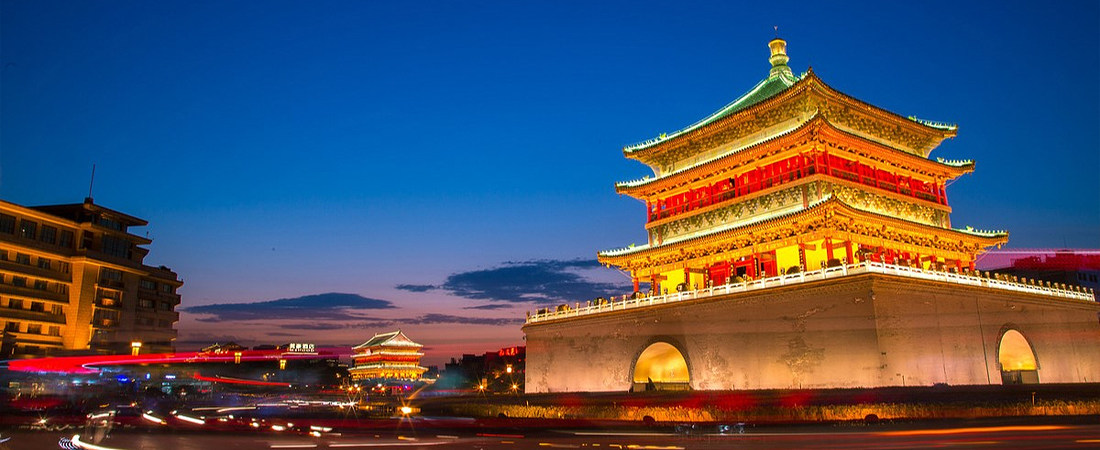 The Bell Tower, is a stately traditional building, that marks the geographical center of the ancient capital. From this important landmark extend East, South, West and North Streets, connecting the Tower to the East, South, West and North Gates of the City Wall of the Ming Dynasty.
The tower was built in 1384 by Emperor Zhu Yuanzhang as a way to dominate the surrounding countryside and provide early warning of attack by rival rulers.
The Drum Tower is located northwest of the Bell Tower of Xian, across the Bell Tower and Drum Tower Square. Both of them are called the 'sister buildings' or 'morning bell and dark drum'. In ancient China, especially from the Yuan Dynasty (1271-1368), the drums were used to signal the running of time and on occasion were used as an alarm in emergency situations.
When you finish visiting the Drum Tower, you may round off your trip, by tasting a number of delicious snacks of Shaanxi in the Moslem Street (Huimin Jie) adjacent to the Drum Tower.